Indonesia seeks greater market access, investment from Australia through new trade pact
From automotives and textiles to education and energy services, Indonesia seeks to expand market access and attract investment from Australia through the new Indonesia-Australia Comprehensive Economic Partnership Agreement (IA-CEPA).
Trade Minister Agus Suparmanto said the deal would enhance market access for Indonesia's products and make them more competitive in Australia.
"We are hoping that this agreement will reduce Indonesia's trade deficit by boosting our exports," said Agus in a video posted by the Foreign Ministry over the weekend.
Indonesia posted a trade deficit of US$3.2 billion last year, lower than the $8.6 billion deficit in 2018.
Statistics Indonesia data showed that both exports and imports contracted last year, dragging down the country's economic growth. Indonesia's gross domestic product grew by 5.02 percent last year, the slowest pace since 2015.
According to a document posted on Australia's Department of Foreign Affairs and Trade website, the trade deal is intended to eliminate all remaining tariffs on main Indonesian imports into Australia and ease the requirements for Indonesian electric motor vehicles to enter the Australian market.
In return, more than 99 percent of Australian goods exports by value can enter into Indonesia duty free or under significantly improved preferential arrangements by 2020. The products include live male cattle, frozen beef, mutton, dairy products, sugar, citrus and hot and cold rolled steel coil, among others.
Australia imported $2.11 billion worth of Indonesian products, 1.36 percent of the latter's total non-oil-and-gas exports, throughout 2019. On the other hand, Australia shipped $4.67 billion worth of commodities to Indonesia, resulting in a trade deficit of $2.56 billion on Indonesia's side.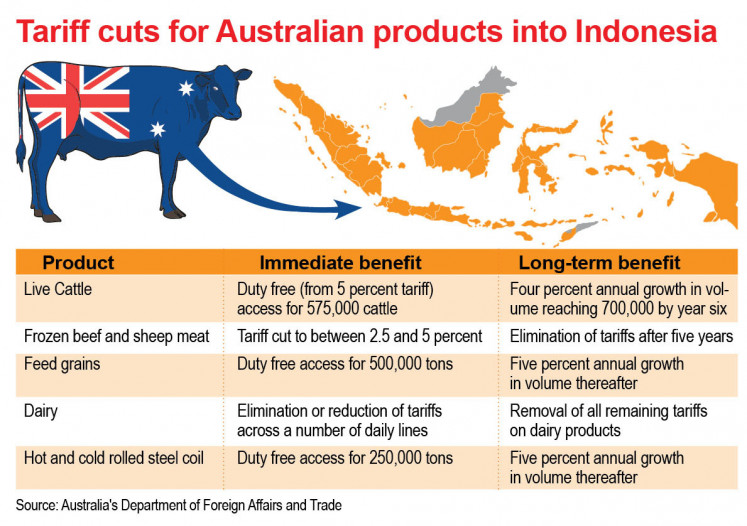 Tariff cuts for Australian products into Indonesia (JP/Aziz). Usage: 0 (JP/Aziz)
Meanwhile, Coordinating Economic Minister Airlangga Hartarto said Australia's investors had yet to become the top players in Indonesia, adding that the deal would better facilitate investment for both countries.
"The deal's purpose is to attract investments from Australia," he said.
Australian investors put $348.2 million into 1,049 projects in Indonesia throughout 2019, becoming the country's 10th biggest investor, according to the Investment Coordinating Board.
Airlangga said he expected the country's textile and automotive industries would get a boost from such a deal, adding that the government aimed to fulfill a demand for 1.1 million automobiles in Australia.
"We have the capacity to build the products for Australia and now we are in talks with local producers to speed up the development of electric and hybrid vehicles, which will begin production in 2021," he added.
Furthermore, the IA-CEPA is to allow Australian investors to have bigger ownership shares in mining and related services, construction services, energy, telecommunications, hospitals and tourism businesses, among other sectors, in Indonesia.
The deal would also open the door for Australian universities to set up facilities in Indonesia as the government looks to upskill the country's labor force.
Australia's Monash University is to establish a postgraduate campus in Indonesia, paving the way for the university to become the first foreign campus to operate in the country.
President Joko "Jokowi" Widodo, during his state visit to Australia on Monday, said the long-delayed free-trade agreement with the neighboring country would lead to improved relations with education and services key focuses of the deal.
"This means in the next five years our bilateral relations will better directed," Jokowi told reporters in Canberra, as reported by Bloomberg. "Going forward, economic relations between the two countries will grow and bring more tangible benefits for the people."
Contacted separately, the head of the Jakarta-based Centre for Strategic and International Studies' economics department, Yose Rizal Damuri, welcomed the deal, saying it could be mutually beneficial for both countries.
"Indonesia needs Australia's food products both for household consumption and industry needs, while our exports of manufactured products to Australia could be enhanced through the free-trade deal," said Yose in a phone interview, adding that the country should strive to become the manufacturer of vehicles for Australia.
Despite the trade deal facilitating Australia's investors to have more options in Indonesia, it would eventually depend on the country's investment climate, said Yose. "It will not attract investments if there are too many obstacles."
source : https://www.thejakartapost.com/news/2020/02/10/indonesia-seeks-greater-market-access-investment-from-australia-through-new-trade-pact.html